By coincidence, I am doing a second new vegetable a week after the first.  Maybe that's a sign?  Perhaps I should try a new fruit or veggie every Friday?  I'll consider it.  Up this week, acorn squash.  Like the spaghetti squash from last week, it is also considered a winter squash variety.  You shouldn't be too surprised since it is, in fact, winter!  Brrrrrrrrrrrrrrrrrrrr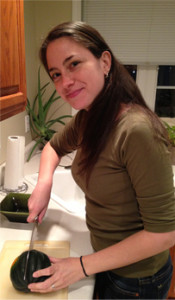 I opted to make this a side rather than the star of the show.  I started as I always do, reading recipes to get an idea of what is done with this foreign (to me) food.  Since I had to split it in two anyway to bake it, I figured it was a good time to try out not just one, but two acorn squash recipes!  My first was the easy, foolproof one dominating the internet, which basically only includes butter and brown sugar.  So the second, I decided, would be my own.  I figured if I screwed it up too badly, I still had the other to eat.
—
Both began the same way, cut side down on a cookie sheet in a 350° F oven for 30 minutes (or until softened).  They were then taken out, flipped over and scored with a knife.
Foolproof Acorn Squash
1 ½ tablespoons of brown sugar – sprinkled over the entire half
½ tablespoon butter – placed in the hollowed center
My Acorn Squash
1 tablespoon of maple syrup – drizzled over the entire half
salt – sprinkled lightly over
pumpkin pie spice – generously coated over the half
½ tablespoon butter – placed in the hollowed center
I tented them with aluminum foil and put them back in the 350° F oven for another 30 minutes.  After they came out, I spooned the center drippings over the upper sides again.
—
They were both good but I'm not going to claim healthy!  I don't think that adding sugars to a veggie really counts as eating a vegetable.  It is getting by on a technicality.  The seeds I toasted could be considered nutritious though!  Maybe I'll try a savory version in the future with a few herbs instead?