About a week ago, I received an email from Naturally Soergel's in Wexford (north of Pittsburgh) about a class they were offering tonight.  Seasonal Eating and Traditional Chinese Medicine (TCM) for a Healthy Body was listed as the topic.  I can't say that I popped up like a Toaster Strudel with excitement or had a feeling of urgency to click to sign up, but indeed I did.  After reading that they were making four entirely gluten free (and vegetarian) recipes, I saw no logical reason not to do it and every reason to go for it.
I like trying new things, particularly foods, and given my dietary restrictions now I'm more limited in that way.  To me, this is like a mini food fest of sorts.  Up on the menu, Burdock and Carrot Kinpira, Crunchy Chickpea Vegetable Soup, Gluten Free Linguine Noodles with Sesame Sauce and Greens, and Lemon Pudding with Raspberry Topping.  Ummm what is Kinpira or even Burdock for that matter?
This is burdock root.  Or at least a piece of it.  Looks basically like any other root to me…
In the U.S. we often see burdock as the purple flowered weed that leaves burrs on us when we hike around during the summer.  For that reason, it is a hard to find as a food item.  However, this is a big world and in the Asian community it isn't so quickly dismissed.  Our instructor purchased hers at Tokyo Japanese Store in Shadyside.  She advised us to not get a thick root because it would be a woodier texture, and that it didn't need to be peeled as long as it was scrubbed.
As for kinpira, it is a food and cooking style roughly meaning "sauté and simmer".  I didn't confirm this, but it seems that Carrot and Burdock Kinpira is also referred to as Gobo Kinpira.  Gobo is the Japanese term for burdock root.  This was our first demonstration.
The second included kale!  In the Gluten Free Linguine with Sesame Sauce and Greens, the greens were kale!  That makes me smile.  And the black and white mix of noodles she chose was eye-catching, although admittedly looked a bit muddled with the sesame sauce on them.
At this point we were over time so the soup was nixed, but we kept moving forward with the Luscious Lemon Pudding with Raspberries.  I'm tickled we did.   She had noted that we could serve it warm or cool, but tonight for the sake of time it was going to be warm.  I haven't eaten warm pudding before, but it was unexpectedly divine.  Maybe it being 15 degrees outside influenced me, but I'll go with it.  I was also elated to see her use another ingredient I hadn't heard of before.  Kuzu root starch!  It has virtually no flavor and was used to thicken the pudding.  Add another new food to my list for the night!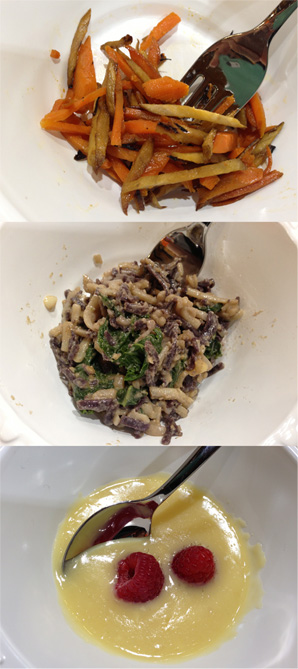 I stopped to talk to teacher Peggy Shaw before I left, and got to try the crunchy chickpeas that were going to be on the soup as well.  Yum.  Cumin.  She was well-informed and undoubtedly passionate about her work.  It was a pleasure to meet her.
The extremely reasonably priced instructional class ($10) was scheduled to last an hour and fifteen minutes for the 4 demonstrations, but ran about two hours for three recipes.  We got sidetracked a little, but learned a lot and were provided printouts of all the recipes from the evening.  I look forward to future classes they offer and am even more likely to hit the sign up button now.